Information on M.S. in Psychology
M.S. in Psychology (online)
Benefits of getting your Master's in Psychology at DMU
Gain a Catholic-Christian understanding of the human person
Learn how to diagnose common psychological problems
Advance your professional skills such as communication, budgeting, negotiation and crisis management
Get skills to become an effective community leader or social justice advocate
100% Online classes
Concentrations in Marriage and Family Studies, Leadership Psychology, Pre-PhD, Human Services Counseling, and Self-designed (free choice of electives).
Fast-Track Option – Complete in 16-26 months
Integrative curriculum
Experienced, accomplished, & dedicated faculty
Low student/faculty ratio
Adaptable learning platform to address every learning style
M.S. in Psychology Program
The Master of Science in Psychology at Divine Mercy University is a unique 33-credit hour, 100% online program that allows students to explore the richness of understanding behaviors, emotions, and thoughts through the study of psychology to aid self and others in flourishing. Students learn to integrate a Catholic-Christian vision of the person with best practices in psychological theory, research, and intervention. It provides competency in the study of modern scientific psychology that helps you understand the human mind and behaviors for the application of service delivery. Finally, you can customize the program to fit your career needs by selecting one of several concentrations in:
Marriage and Family Studies
Leadership
Pre-PhD
Human Services Counseling
Self-designed (free choice of electives)
Start your application now or speak with our M.S. in Psychology Admissions Advisor — click to call Maria Lees-Dunlap today.
Schedule an Information Call with an Advisor
Our M.S. in Psychology Admissions Advisor would love to meet you! Click to schedule a call with Maria Lees-Dunlap today so she can help you decide if this program is right for you.
Marriage and Family Studies
This concentration allows students to take three additional courses in the area of Marriage and Family Studies from the perspective of the Catholic-Christian teaching on marriage and family in historical, bio-psycho-social-cultural, philosophical, and theological contexts. The program prepares students to encourage couples and families toward flourishing in a variety of settings. Some of these might be by leading marriage preparation and marriage enrichment relationship education programs, training mentor couples, becoming directors of marriage and family in churches and other ministry settings. In their coursework, students gain insight into foundational systems-oriented theories and how issues such as gender, culture, and ethnicity impact the family system. Finally, students will be introduced to models and methods of intervention to lead specific psychoeducational programs.
The Leadership Psychology concentration is designed for individuals who are responsible for leading people, programs, and organizations in a variety of settings. These might span from ministry-related leadership positions to leadership positions in business, education, and nonprofit settings. Initially, students appraise tenets of self-leadership by examining personal biases, using critical self-reflection, and evaluating self-regulatory behaviors which affirm the fundamental goodness and innate dignity of the person. In addition, students learn to analyze the evidence base of transformational leadership from a Catholic-Christian perspective. As transformational leaders, they analyze strategies to build growth-oriented learning organizations and foster personal and professional growth in others. Finally, they demonstrate skills of being a leader of teams, programs, and organizations in a service delivery setting.
This concentration is intended for students who want to work in settings that focus on meeting human needs and promoting flourishing by focusing on prevention and remediation of problems. Graduates will be able to engage in professional and paraprofessional occupations in a variety of settings such as group homes, hospitals, correctional centers, day treatment centers, social service agencies. Job titles and duties can vary considerably by employment setting. In their three electives, students will demonstrate interpersonal skills in helping relationships and group dynamics and analyze helping approaches for individuals struggling with addictions. Working in a human services career can be extremely rewarding by walking alongside individuals in difficult situations and aiding them towards flourishing.
The self-design option is created for students who are in work or ministry situations in which they would benefit from a variety of electives. Students in this track can freely choose three electives based on their interests and professional goals. Electives can be taken in the areas of marriage and family, leadership psychology, or human services counseling. This option might be especially beneficial for individuals in ministry leadership positions as it allows them to design an individualized degree plan.
Schedule an Information Call with an Advisor
Our M.S. in Psychology Admissions Advisor would love to meet you! Click to schedule a call with Maria Lees-Dunlap today so she can help you decide if this program is right for you.
The program provides advanced skills that enable students to become transformational leaders. These skills include:
The ability to recognize and respond to mental health challenges
How to effectively communicate and negotiate
The importance of interpersonal relationship building
Ways to lead a team through crisis
How to manage a budget
Strategies for program evaluation
Fostering increased cultural awareness
Job Opportunities in 60+ Career Paths
Case Management
Market Research Analysis
Directing Volunteer and Ministry Programs
Teacher of Psychology
Behavior analyst
Psychological associate
Addictions psychologist
Residential youth counselor
Human service worker
And many more!
Through DMU's uniquely designed curriculum, you will thrive in your career and vocation, and excel as a mental health professional and advocate in your local community! By gaining an understanding of the whole person and not just their behaviors, you will be prepared to:
Help people flourish in their personal vocations and daily life.
Build and maintain relationships with clients, manage cases, and facilitate groups.
Act effectively in situations where de-escalation, negotiation, and crisis intervention are needed.
Examine in-depth theory and research associated with the diagnosis and treatment of common psychological problems.
Recognize the integrity and dignity of each person you encounter.
Recruit and lead a volunteer team.
Integrate research and program evaluation data to improve your practice and the delivery of services.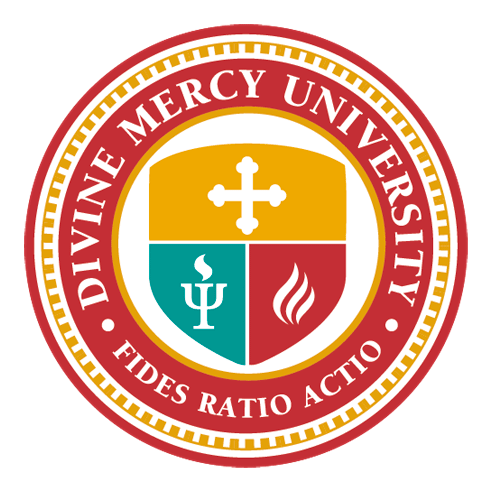 About Divine Mercy University
In 1999, a group of psychologists and academicians saw the immense need for an institution of higher education that incorporates the Catholic-Christian vision of the human person with the science of psychology. We believe in the dignity of the human person and a calling to alleviate suffering. The Institute for the Psychological Sciences (IPS) at Divine Mercy University offers doctoral and master's graduate degree programs rooted in the integration of academic psychology with theological and philosophical teaching.